Black people are sooo gulible…. We will believe anything the caucasian says without proof. It's similar to them telling us/natives they own the land and showing us a paper written by them indicating they own land they stole/took. They owned the land alright the proof is showing us some random paper/document while holding a gun to our heads. Yeah massa you own the land!
Horce King NEVER OWNED SLAVES! There is NO PROOF HE OWNED ANY SLAVES AT ALL! This is an example of the slave master trying to justify his slave past by trying to implicate us in our own servitude all while attempting to minimize his role as the sole slave owning race in America. Black people are quick to believe BS like this and with NO proof, even if they could produce something that said the contrary why would anyone in their right mind believe it especially coming from them?!? Please make it make sense…SG64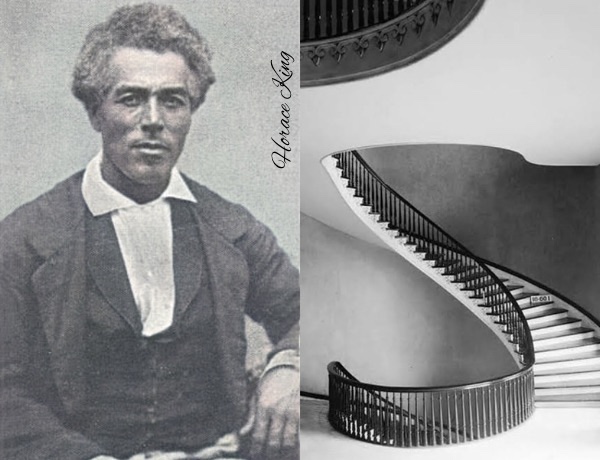 Horace King, born a slave on September 8, 1807, in Chesterfield District, South Carolina, was a successful bridge architect and builder in west Georgia, northern Alabama and northeast Georgia from the 1830s to the 1870s. King worked for his master, John Godwin who owned a successful construction business. Although King was enslaved, Godwin treated him as a valued employee and eventually gave him considerable influence over his business.
Horace King supervised many of Godwin's business activities, including the management of construction sites. In 1832, for example, King led a construction crew in building Moore's Bridge, the first bridge crossing the lower Chattahoochee River in northwest Georgia. Later in the decade, Godwin and King constructed some of the largest bridges in Georgia, Alabama, and northeastern Mississippi. By the 1840s, King designed and supervised construction of major bridges at Wetumpka, Alabama and Columbus, Mississippi without Godwin's supervision. Godwin issued five-year warranties on his bridges because of his confidence in King's high quality work.



Bridge over Chattahoochee River, Alabama
In 1839, Horace King married Frances Thomas, a free African American woman. The couple had had four boys and one girl. The King children eventually joined their father on various construction projects. In addition to building bridges, King constructed homes and government buildings for Godwin's construction company. In 1841, King supervised the construction of the Russell County Courthouse in Alabama.
Despite the success of the company in attracting work, Godwin fell into debt. King was emancipated by Godwin on February 3, 1846, to avoid his seizure by creditors. King continued to work for Godwin's construction company and when his former owner died in 1859, King assumed control of Godwin's business.

During the Civil War, King continued to work on construction projects, usually for the Confederacy, including a building for the Confederate navy near Columbus, Georgia. Confederate officials also forced King to block several waterways to prevent Union access to strategic points in Georgia and Alabama.

Horace King's first wife, Frances Thomas King, died in 1864, and he married Sarah Jane Jones McManus after the end of the Civil War. King's construction business prospered after the war; he worked to reconstruct bridges, textile mills, cotton warehouses and public buildings destroyed during the conflict. After passing down the family business to his son, John Thomas King, Horace King was elected as a Republican to the Alabama House of Representatives, serving from 1870 to 1874.
During Reconstruction King became a reluctant Republican politician, serving twice as member of the Alabama House of Representatives, though he rarely occupied his seat during the initial year of his first term. Instead of politics he was busy rebuilding wagon and railroad bridges, grist and textile mills, cotton warehouses, and public buildings. Although he should have earned a large income, he actually experienced some economic reverses, perhaps because he accepted municipal and corporate bonds or over speculated as a contractor, or simply because of the depressed economic condition of the region.
In 1872 King and his family moved to LaGrange, where he continued to design and construct bridges, stores, houses, and college buildings until his death, on May 28, 1885. Obituaries praising his building skills appeared in the Atlanta, LaGrange, and Columbus newspapers.
King's  children—Washington W. (1843-1910), Marshall Ney (1844-79), John Thomas (1846-1926), Annie Elizabeth (1848-1919), and George (1850-99)—continued the work of the King Brothers Bridge Company. They built bridges and various structures in LaGrange, Atlanta, and east Alabama. John T. King served as a trustee for Clark College (later Clark Atlanta University) from the 1890s until the 1920s and was one of the contractors who built the Negro Building at the Atlanta Cotton States and International Exposition in 1895.
For more than a century the achievements of King have been well known in the Lower Chattahoochee River Valley. Local writers and chambers of commerce proudly proclaim their Horace King bridges or buildings even when there is little or no real historical evidence to verify many of the claims. King's legendary status stems from three factors: he was an excellent bridge builder, the best in the region; he forged a career that was unique for a man of color; and his experience appeared to embody slavery at its best, a kinder and gentler form of servitude.
Slavery must not really be that bad, local historians implied, if this enslaved person erected a monument to his enslaver. In this way King unwittingly became an apologist for slavery. In recent years he has been cited as a Black Confederate, an African American who supported the Southern cause. If his Unionist testimony reflected his true opinion, however, King shunned any association with the Confederacy.
In 2004 the Horace King Overlook, a deck attached to the historic Bridge House at River Front Park in Albany, was dedicated in King's honor. The overlook's structure includes a miniature replica of one of King's covered bridges.


Horace King died on May 28, 1885, in LaGrange, Georgia.